Newsletter
The veterinarians and staff at Cats & Critters are pleased to provide you with an online newsletter. This fun and fact-filled newsletter is updated on a regular basis.
Included in the newsletter are articles pertaining to pet care, information on our animal hospital, as well as news on the latest trends and discoveries in veterinary medicine.
Please enjoy the newsletter!
Current Newsletter Topics
Summer Exacerbates Your Pet's Breathing Problems
How Summer Exacerbates Your Pet's Breathing Problems & What You Can Do To Help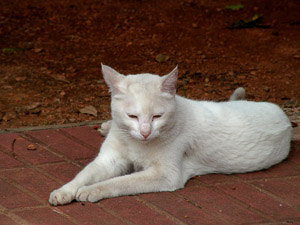 With summer in the air, it's getting particularly hard for some animals to breath. This is especially the case for short-nose – or flat-faced – dogs, such as the Pekingese, pug, bulldog, boxer, shih tzu, and chihuahua. However, these airway problems, which are typically due to narrow nostrils, a long soft palate, or collapsed voice box, can also affect our feline friends, such as Himalayans and exotic shorthairs. This condition (known as the Brachycephalic airway syndrome) is largely due to the dog or cat's unique head shape, so there isn't much you can do to entirely avoid it.
However, there are certain factors that can increase the risk and further complicate their breathing condition. These include:
Allergies (especially in the summer)
Obesity
Over-excitement
Exercise and any other activity that could lead to excessive breathing. Panting may also naturally increase in the summer months as the weather gets hotter and more humid.
Treatment options largely depend on the symptoms exhibited by your dog or cat. In some cases, surgical procedures may be your pet's best option.  So don't let the summer heat waves stop your pet from getting a breath of fresh air. For more information about symptoms and treatments, talk to your local veterinarian.
Why Pet Tags Matter
Why Pet Tags Matter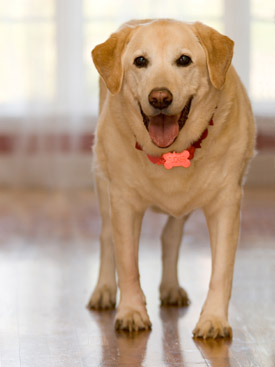 The majority of pet owners believe that pet tags are important, yet only a minority of them act on it. In fact, of the over 80% who taught the benefits, only 1/3 of pet owners actually tag their animals. This is not enough. With millions of animals going missing each year, it is imperative that pets wear their identity tags.
A recent study in The Journal of the American Veterinary Association reported that the vast majority of cats and dogs that go missing do not have collars and tags on at the time they disappear. This is especially apparent with cats, which are rarely spotted with collars. This is because many cat owners think that collars are dangerous for Whiskers, who likes to climbs trees and weave through branches that could pose a threat if snagged. But most veterinarians will tell you that the risks of losing your cat far outweigh any potential risks posed by a collar.
And just because your pet stays indoors does not mean you shouldn't tag her, too. Make sure to tag your pets while they're young so they can adjust to the feeling. It makes sense that your cat won't immediately like or understand the feeling of a collar if you put it on them when they're seven years old. But don't worry, with time, they'll soon adjust.
Plus, tags can be fun! In addition to the classic engraved tag, there are all kinds of new stylish tags on the market, as well as modern technologically-advanced tags with built-in scan codes and GPS technology. And although microchipping your animal provides the latest trend in pet tracking, tagging remains one of the most simple and affordable options to ensure that Fido always finds his way home. Don't let your pet become a statistic – contact your local pet store or veterinarian to help you get the tags you need.
VIDEO: Keep Your Pet Cool This Summer
Keeping your pet cool in the summertime is a must! In this special report from the Veterinary News Network, Dr. Jim Humphries shares tips on preventing heat exhaustion and heat stroke when summertime temperatures climb.
Leash-training Your Cat
We've always been told that cats are independent – that they like their space and fend for themselves. While this is sometimes the case, many animal behaviorists claim that cats may be more wanting of human attention and companionship than we once thought. Accordingly, these same behaviorists are promoting the possibility – and even benefits – of leash-training your cat. Not only can it increase your bond and overall companionship, but also strike a nice balance between owning an indoor and outdoor cat.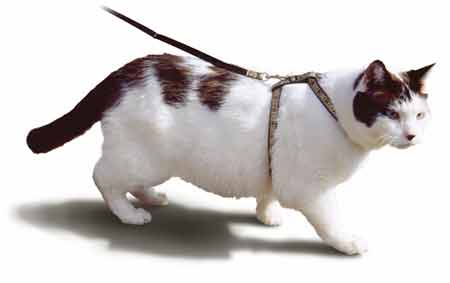 Teaching a cat to wear a leash, however, may be no easy feat. But just like new puppies, they're simply not used to it. Here are a few tricks to get Whiskers on a leash:
Positive Reinforcements
Cats don't respond to discipline the way that dogs do, nor is pleasing you enough of a reward for Whiskers. Instead, an approach centered around positive reinforcement may be the only way to get your cat on that leash.
Rewarding With Food
When you're first working with the leash, make sure your cat is hungry. Treat him to his meal, or a tasty snack, when he plays by the rules. If he's not hungry, he simply doesn't care about how delicious your pocket treat may be.
Baby Steps
Be patient. Take it one step at a time, day by day. Once your cat is straddled in, it's probably not a great idea to head straight for the streets. This could be intimidating, with far too many distractions. Instead,  try a park or other safe area first – baby steps until your cat is ready to play with the big guys.
Refrain from Holding
I know it's tempting, but picking up your cat whenever he looks scared or defeated will not serve you or your pet well. This will only make him more dependent on you and erase any confidence that he was starting to build.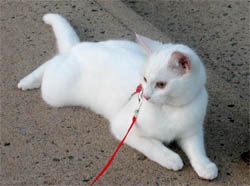 Know Your Cat
Most of all, know your cat. If he hates being held or handled, you may have a harder time getting him in that harness. Play to your cat's strengths and weaknesses, and keep them in mind throughout the entire training process.
Go ahead, strap him in!
The Most Dog-Friendly Cities in the US: From Paucity to Paw City
As dog owners, we've all been there: You head for the door and even before you reach for your coat your dog is staring at you expectantly, tail wagging wildly. "C'mon let's go! Where are we going?! C'mon!" the eyes and wiggling body seem to say. It's always a little heartbreaking when you have to leave him behind. In a growing number of places across the country, however, you don't have to leave your beloved pal to pine for you, or worse, to eat your favorite shoes.
Local governments and businesses are making it easy to grab the leash more often, which has important benefits for not just your enthusiastic companion's overall quality of life, but for the bond you share as well.
These Cities Have Gone to the Dogs
So which cities rank at the top?
Richie Bernardo at Wallet Hub ranked cities based on metrics such as ownership and maintenance costs, health care and pet friendly outdoor spaces. The following made his top ten:
Cincinnati, OH
Las Vegas, NV
Scottsdale, AZ
Irvine, CA
Sacramento, CA
Atlanta, GA
Tampa, FL
St. Louis, MO
Orlando, FL
Glendale, AZ
Forbes weighs in with a slightly different list based on pet-friendly home rentals, dog parks, dog-friendly businesses, pet care costs, dog-centric events and walkability:
San Diego, CA
Portland, OR
Seattle, WA
Chicago, IL
Orlando, FL
Austin, TX
Las Vegas, NV
San Francisco, CA
Milwaukee, WS
Minneapolis & St. Paul, Minnesota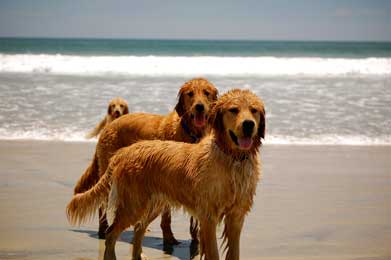 Dogs on the beach in San Diego, CA
Some other cities that have made the cut according to PawNation and The Huffington Post are Boston, MA, Albuquerque, NM, and Tucson and Phoenix, AZ.
Taking a Trip? Don't Forget Your Dog!
Don't see your home city on these lists? If you don't live in one of these top dog-friendly locales, you and Fido can still visit one. One Green Planet suggests the following 10 vacation destinations for you and your furry, tail-wagging companion:
Austin, TX
Bar Harbor, ME
Cape Cod, MA
Carmel, CA
Chattanooga, TN
Chicago, IL
Colorado Springs, CO
Key West, FL
Portland, OR
Sonoma Valley and Napa, CA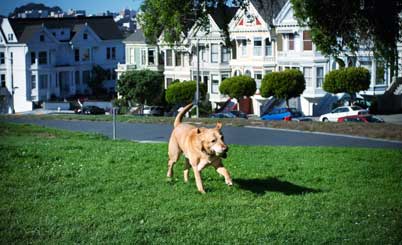 San Francisco is considered one of the most dog-friendly cities by Forbes.
Make Every Day a Dog Day
Dogs are loyal, loving companions who are happiest when they're with their humans. Whenever you can, keep your eye out for events and activities you and your dog can enjoy together. It will help you both be happier and healthier!